Quite a bit has already been said about the first TypeTalks symposium in Brno, Czech Republic. Several colleagues have written some great accounts of the event, so I will be brief here as to not repeat everything. But for more in-depth descriptions you really should check out these posts:
— Florian Hardwig (German Part 1, Part 2) (Translated to English Part 1, Part 2)
The Brno House of Arts, Dům umění města Brna, was the perfect venue.
The man responsible for organizing this one day event was my friend David Březina.
Florian Hardwig's research on school writing models and local preferences for letter shapes is fascinating – he is also an excellent speaker and always has great images.
I spoke on the same topic as in Cyprus a few days earlier: on typesetting technology history. This talk was significantly reformed from the ICTVC version which told more of a story while drawing more conclusions. This topic needs more than just 30 minutes though to somewhat cover the extensive history. An hour would certainly begin to do it justice, but in this short form it's still a nice and quick overview – especially for the younger students.
The fun and stupidly hip Michi is quickly becoming a lettering expert. Be sure to catch his talk on this subject (or any other) if possible.
The turnout was pretty good: there were ≥88 paying attendees + the speakers & organizers = all together ≈100.
Tomáš Brousil showed his upcoming type family "Tabac" while David was heroically acting as the microphone stand. Tomáš' talk was entirely in Czech, but David made a few translations, especially of the funnier bits. I felt lucky to already be familiar with Tabac after writing a review of it in TYPO magazine last fall, so I could follow most of what he was discussing (I think).
Dan Reynolds re-presented his TYPO Berlin talk from this year: "The passion of the young, multi-script type designer." Last time though it was in German, and I missed it… so getting to see it this time was double great!
The coffee breaks were well-placed on the courtyard terrace, well-stocked with cookies, chips, and drinks, and well-timed.
Dan Rhatigan wasn't on the schedule, but gave a spontaneous presentation as a free bonus! Up until this point in the day everything was precisely on schedule… it then fell behind, but was worth it. You can see his slides and read a little about his talk here.
Veronika Burian wrapped up the event with her talk on "Typographic Matchmaking." She gave this one at TYPO Berlin as well, and just as before, unfortunately ran out of time before the last few dozen images.
Florian Hardwig and Fernando Mello are both awesome. If you ever have the chance to have a drink (or two) with them you must take it!
Also in attendance were several students from Poznań and Katowice, Poland. I was thrilled to again see the talented & lovely (now graduated) designers: Aleksandra (Ola) Woldanska, Anna Giedryś, and Viktoriya Gadomska whom I had the pleasure of meeting a few months earlier.
Here is the obligatory shot of the group at dinner. As usual, it was a fun evening full of nerdy type talk.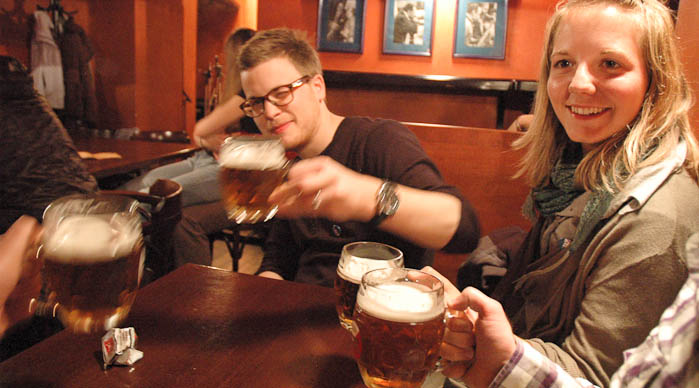 The Typejockeys drink baby beers (it's a little hard to see here, but those glasses are miniature). You know the expression "half-pint" – meaning a short person or a kid – well this duo drinks 1/4 pints (Seiterl/Kinderbier)(they are appropriately young and fairly petite though). I shouldn't talk though, I was actually drinking juice (apparently "cider" in Czech is apple juice).
Dan, Dan, & Florian trying to look bored by Rick Poynor at the opening of his exhibition: Uncanny Surrealism and Graphic Design.
Oded Ezer is the best. He is really one of the friendliest guys you'll ever meet.
Brno is a surprisingly beautiful and interesting city. Not sure how great it would be to live there, but it is certainly worth a visit for a few days. There's quite a lot to see and do there – interesting architecture, cool signs, nice cafés, Ali Babba…
So in conclusion: This review might sound a bit too enthusiastic and not critical enough, but truly, I don't have anything bad to say. TypeTalks was as entirely well-organized and a great time; the whole event ran much smoother than the typical type conference. Surely some of the perceived ease was due to the small scale, but that shouldn't detract from all the hard work put in by David and his students! I hope he is proud of everything and now has the energy and motivation to coordinate future symposiums!