Ian Fleming (d. 1964) acclaimed creator and author of James bond would be celebrating his 100th birthday this year. In commemoration of this anniversary, Penguin UK is re-issuing his series of 14 books with newly designed hard covers created by Michael Gillette.

It may be difficult for me to criticize these designs, upon first glance, because they feature funky type and sexy women. And to be fair, as a series there is a nice cohesion and many variations of the theme. However, the 'type on a person' idea has been played out many times and these are certainly not the best examples. Maybe book jackets work better when they are obvious, but there just seems to be a lack of intelligence or whit here. Certainly not the precise, calculating, insight that Bond portrays. Besides, while the women are unmistakably key components to the series, there is much more than only them.I don't know. I don't know how much I approve or dislike these yet. But since the reinvigorating of the franchise with 2006's Casino Royale, I have become a fan. Listening to the audio books while working on Vesper was a nice way to help pass the time too. But it would be good to see some real books in person sometime.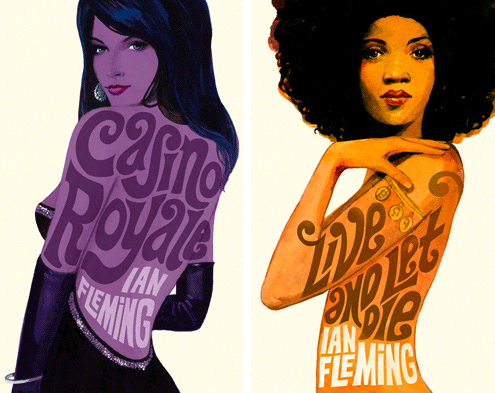 Still with Bond book covers but now onto the original versions, the the British Royal Mail put out a collection of James Bond stamps last January. They feature images of each of the original book covers. Still don't have my copy yet… You can see them in a bit more detail at the Royal Mail…
Update:
I have finally received my set of the Bond book cover stamps! Now I am a complete stamp novice, and know little of their general printing and production. But these are striking in their detail and super fine printing. With a loupe you can make out all the text on each book cover. Maybe this is common, but it is still amazing to me.