02/August/07
The MATD07 class website is online now. Most people have uploaded PDFs or links to images samples of their typefaces. I am in the latter group. You can see some more photos of my design here.
* * *
25/July/07
The MATD 07 typefaces are submitted! Everyone made it in on time and they all turned out really well. In the coming weeks there will be a class website put up where you can check out all the designs (link to follow). Until then, here is the first public image of my design, Vesper.
* * *
16/June/07
Staying a few conferences ahead, here is the poster for the Non-Latin conference jointly at St. Brides (London) and the University of Reading's Typography Department. Definitely try to visit if only for the exhibition, it will certainly be worth the trip alone (and it is free).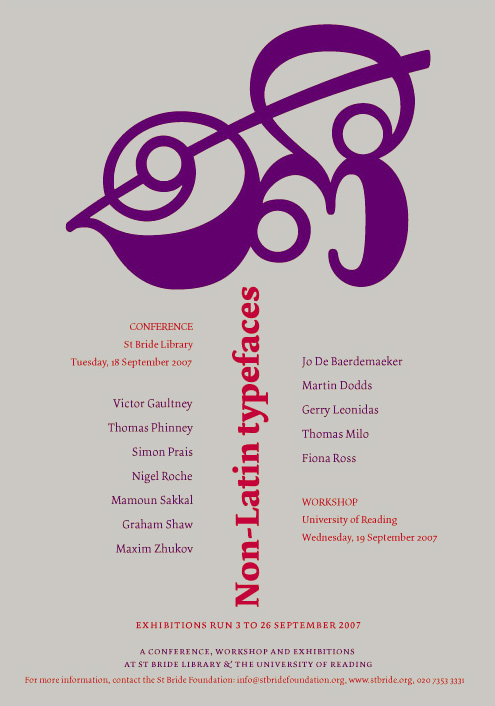 * * *
31/May/07
This is just a quick update getting slipped in before the end of the month. Things at the department are going well, the typeface is progressing rapidly, and the deadline is approaching faster than I ever imagined (and I have a big imagination). The first few months of the design were tedious, but now that the regular a-z, A-Z, and 0-9 are about right then all the other characters have practically drawn themselves. The italic and Devanagari variations are underway and the bold will started soon. With the conference in Thessaloniki coming up I have about 2.5 weeks to finish the bulk of the designing... drinking lots of coffee now.
* * *
06/May/07
So, again, the site has been on back burner. The typeface is coming along nicely, but a bit slow maybe. During the last couple months we have traveled quite a bit. First was the trip to Rome and Florence, then just recently was the TypoTechnica conference in Frankfurt and a class trip to The Netherlands and Belgium. Images Here
* * *
09/February/07
Well things have been very quiet online here lately. The MATD area has been updated with some new images from Reading. Settling on a direction for my typeface is taking a lot of time; I keep changing my ideas every week or two. The latest version will most likely be the one to see completion, hopefully. The good thing about all this experimentation is that I have many potential designs waiting for later. They all seem feasible, but maybe not quite right for the thesis project.
* * *
01/January/07
Happy New Year
Just a quick update saying that things are still in business here. This year many new things will be up. The substantial MATD typeface is just underway, so it should be ready to go by the end of the summer. Several other typefaces are in progress, probably won't get much work on them until after September.
There are some new arty type things in progress as well. There are a couple dozen new sculptures waiting to be photographed in America and many new 2D things started here in Rdg. The found type area should have a few new images and stories from England, because there is much to get excited about here.
Sign up for the mailing list to hear of updates when they happen, and keep checking back. Best of luck to all of you with whatever you are working on.
* * *
31/October/06
Things started off fairly slowly here at Reading, but they are steadily picking up. This means, unfortunately, there will be no new art updates for the time being. Instead, check out the type section to see a running log of all the interesting things happening here in England.
* * *
10/October/06
The site is getting updated rather significantly. Most changes are in the back end, but the overall superficial appearance is getting overhauled too. For the time being some pages will not be available, but they will be online again soon with new content. Thanks for visiting.
The special tsunami edition of Building Letters is finally available. There were only 1000 copies made, so get yours now. It is a beautiful publication, it comes with many interesting fonts, and of course the money goes to an important cause.
* * *
23/September/06
* * *
29/August/06 #2

See it now at YouTube. An updated version is being worked on and will be available here in better quality.
* * *
Please enjoy your stay!
* * *